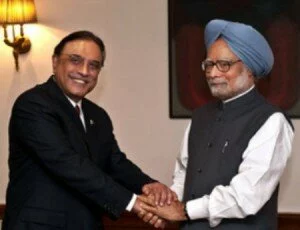 For normalization between two nation's relations, it must be needed that Pakistan should punish mastermind of 26/11 and Let founder Hafiz Saeed, Prime Minister Manmohan Singh told Pakistan President during meeting.
Saeed, on whom the US announced a USD 10 million bounty, was the issue that brought up by Mr. Singh who asked Zardari to take action against Saeed and others terrorism "upfront" if he wants the bilateral ties.
After 40-minute long meeting between the two neighbors leaders, a wide amount of bilateral, regional and global issues had covered.
Both leaders told that this meeting is "fruitful" in which both are ready to go hand by hand approach over issues like Kashmir, Siachin and other matters.
While talking about Zaedari response over talks, Foreign Secretary Ranjan Mathai said the Pakistan President wants to go for further discussion and while there will be meeting between home secretaries of the two countries, the issue will be taken up that time.
He further said, "The Prime Minister appreciated that Pakistan has moved ahead on bilateral trade."
According to source, Zardari said "We would like to have better relations with India. We spoke on all topics that we could have spoken about and hope to meet on Pakistan soil very soon."
At Mr. Singh's Race Course Road residence, Zardari and his son Bilawal along with few other members of 40-strong entourage had joined the table for lunch with Singh.
Talking to media about meeting, Mr. Singh said, "President Zardari and I had a very constructive and friendly exchange of views on all bilateral issues which affect the relation between India and Pakistan."
"That's our common desire. We have number of issues and we are willing to find practical and pragmatic solutions to all those issues and that's the message President Zardari and I wish to convey," he added after questioning about normalization.
There would be more efforts made to progress in bilateral ties, for that it has been said that both leaders would be signed an agreement on liberal visa regime, improving relations by contact people-to-people. It is likely to be during the shortly upcoming meeting of the home secretaries.