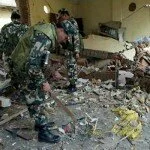 Amid gunfiring between Naxals and the CRPF personnel in Chhattisgarh at least seven tribals, including minors, were killed in encounter as per Congress report, for that Home Minister P Chidambaram has expressed "deeply sorry", but claimed a "transparent" role of CPRF.
The 11 panel members report claimed to have role of CRPF along with sate government in the encounter as they did not guided how the operation should be moved.
The major controversial fact rose while home minister reacted differently over the report on Wednesday. Raising more doubts over the state police guided encounter, he said that now all is over the state government whether or not to call any inquiry into the June 27 anti-Naxal operation that was "conducted under state police" direction in Chhattisgarh.
"The encounter for some reason is being called a fake encounter. Chhattisgarh chief minister Raman Singh spoke to me. As far as any enquiry is concerned, it's a call he has to take," Chidambaram told reporters.
Moreover, the sudden reaction over anti Naxal operation came just after Chhattisgarh Chief Minister Raman Singh met Prime Minister Manmohan Singh with regard to operation claiming that CRPF has negligence role in death of 20 innocent people.
But denying the allegations, DG CRPF Vijay Kumar said the security forces opened fire after they were fired upon by the Naxals, source said.
Being completely taking aside the CRPF from this controversy, Chidambaram said, "CRPF DG has said he has nothing to hide, nothing to fear…I am not going into the political controversies, we have been absolutely candid, frank and upfront."
He also expressed "deeply sorry" for loss of lives of any innocent person; any adult or woman not involved with the Maoists at all had been killed.
While the report is enable to clarify the crossfiring process, but identified killed innocent tribals who are: Irpa Suresh, Dilip Markam , Ekka Mittu , Kunju Malar , Kumari Kaka Saraswatu , Kaka Rahul , Ram Vilas Markam.