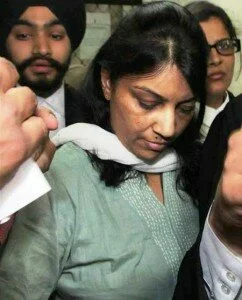 Aarushi murder case that was once declared to be close by the CBI without solves it due to lack of evidences and clues against any one accused, but refusal of that permission by the Ghaziabad judge took the case at a different mode.
Both accused the dentist couple has approached higher courts to seek relief as the court issued NBW against Mrs. Nupur.
Today, 30 April, is the day for Mrs. Nupur Talwar to be produced before the Special Central Bureau of Investigation (CBI) court in Ghaziabad for surrendering herself as per order raised by the Supreme Court on Friday.
The main accused of being in murder of her 13-year-old daughter Aarushi, Nupur is always left herself aside from the trial of court.
Now while she present before court today, her trial will start.
However, few days ago, Mr. Rajesh Talwar along with Nupur, his wife requested the Supreme Court in plea of refusing a non-bailable warrant issued earlier this month against Nupur by special CBI court in charge of Mrs Talwar's absence.
The CBI then tried to locate her, but failed to do so. Mrs Talwar, meanwhile, took her case to the Supreme Court.Whereas Supreme Court denied giving any relaxation, it said while Mrs Talwar applies for bail, then request will be considered.
But till that whenever the bail decision is delivered, Mrs Nupur may stay in jail for few days.
However Mr. Talwar is also being accused of the double murder, criminal conspiracy and destruction of evidence, under that charges, he was arrested few weeks ago by the Noida Police but released soon on basis of CBI order over the case caused of lack of evidence against him.