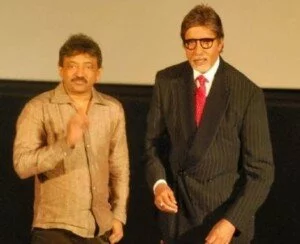 In a top story from the Bollywood, the well-known filmmaker Ram Gopal Varma has recently said in media that super start of the millennium, Amitabh Bachchan has never said 'No' to him on working on any project.
It is know to all that the two, Ram Gopal Varma and Amitabh Bachchan have given many super hit film to the industry and misses together and the former says that the Big B never turns down his offer.
While talking to media in an interview, the 50-year-rold director, RGV said, "When it comes to favourite actor, the only name I will take is Mr. Bachchan. He trusts me a lot as a director."
Further, Ram Gopal Varma said, "So far it has not happened that I have approached him for a role and he has said no. Sometimes it (films) work, sometimes it doesn't. But somewhere he knows my commitment and that my work comes with lot of seriousness."
The filmmaker along with Amitabh Bachchan has give hits to Bollywood such as Sarkar and Sarkar Raj.
Moreover, he has also roped Amitabh Bachchan in for Ram Gopal Varma Kii Aag and Rann, which didn't do well at the box office.
In all of his film, the director Ram Gopal Varma feels that Amitabh Bachchan's best performance was in Nishabd.
He said, "I honestly feel Big B's best performance is done in Nishabd."