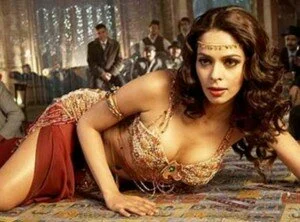 The super hot and sizzling Bollywood actress Mallika Sherawat's item song Laila is back in the latest released film 'Tezz'.
Earlier, the item song was removed by director Priyadarshan who thought that the song is not required in the film as it is an action movie.
But now, reports have said that the director has given green signal to the item song to feature in the film.
While talking to media, Ratan Jain said, "The song was shot with Priyan's approval. I went to Wai to meet him, and he had no objection to it. He was present during the post production too. I am on very good terms with him and he is now promoting the film in different cities."
Earlier, director Priyadarshan said, "I never wanted the item song in the film but the producers (Ratan Jain of Venus) said we are a musical company and hence it came in the film. They went ahead with it and producers naturally are always right as they spend money all the time. I did not want to do it, so they shot it without me, but that is fine."
"The song in Tezz is not needed. It is placed without any connection. But such things they do for promotions.. and that is what they mean. Tezz is not a musical film.. it is an action film, so they feel item songs and all are important for promotion. So I don't know whether they are right or me," the director said.
Meanwhile, the item number in the film is sung by singer Sunidhi Chauhan, choreographed by Ganesh Acharya and composed by music duo Sajid-Wajid.
The film is doing well at the box office. The lead role played in the film by actor Ajay Devgn, Anil Kapoor, Sameera Reddy, Boman Irani and Kangana Ranaut.