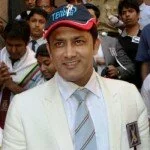 Latest cricket news state that former Indian captain Anil Kumble has been named as the chairman of ICC's Cricket Committee by the game's governing body.
Anil Kumble has takes over the place earlier headed by West Indies great Clive Lloyd.
Talking to media, ICC President Alan Isaac said, "In Anil Kumble, we have a new chairman who has unquestioned experience not only as a player with India but also as an administrator with Karnataka State Cricket Association as well."
ICC President Alan Isaac was sharing his views after the Executive Board meeting here.
Meanwhile, the 41-years-old, Anil Kumble, had played 132 Test matches and took 619 wickets and played 271 ODIs taking 337 wickets, he had played 18-years for international cricket.
Further, Alan Isaac said, "I am sure that he (Kumble) will carry on Clive's good work and bring, like Andrew Strauss, contemporary thinking to the committee and both understand clearly the issues facing the modern game."
Isaac said, "I would like to thank Clive Lloyd for his chairmanship of the ICC Cricket Committee and to his tireless contribution to the game. The ICC Board were united in their admiration for his work as chairman. We also thank Ian Bishop for his contribution during his term as well."
ICC sources revealed that Anil Kumble will work as ICC Cricket Committee chairman for next two years.
On the other hand, ICC had decided to extend the work periods of Mark Taylor (representing former players) and David Kendix (statisticians) for a further term.