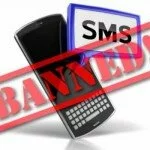 The central government has taken a hard decision to ban bulk SMS and MMS in the country for 15 days; this is due to rumours spread by using SMSes and MMSes which led Northeast exodus from states like Pune, Bangalore and Mumbai.
The decision was taken by the government after the reports that people are spreading misleading SMS and MMS to create panic in people of the country.
However, the 15 days ban on SMS will highly affect the normal life of people in the country as well as revenue of the telecom companies will also get affected.
It is said in a repots that there are around 96 percent of India's 950 million mobile connections are prepaid users.
Limit for prepaid users per day:
SMS Limit: 5 per day
MMS Limit: 5 per day, none over 25KB
On the other hand, post paid users are not in the list of ban, as telecom firms said that it is not possible to extend ban in such a short period of time.
Transactional SMSes: From banks, airlines, railways, brokerages, radio taxis, entertainment portals & multiplex chains.
Further, the ban on bulk SMSes and MMSes would be applicable for 15 days, from August 18 to September 2, 2012.
Meanwhile, mobile users can use other free text apps like WhatsApp, BlackBerry Messenger and Nimbuzz.
Telecom firms will be facing a loss of around Rs 400 crore, however, they will also earn high revenue by an increase in calls.