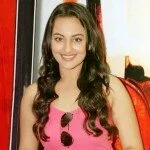 The upcoming Bollywood actress Sonakshi Sinha is quite happy with the super success of Salman's Ek Tha Tiger, something the actress predicted before the release of the film.
The actress had said in an interview before the release of the film that 'Ek Tha Tiger' will be a super hit.
Sonakshi's prediction came on the sets of dancing show, Dance India Dance Super Kids, Sonakshi Sinha said, "Yes, I have seen it ('Ek Tha Tiger'). I saw it on the day of its release and it's a fun film. It has taken a very good opening, like I had predicted."
She said, "You know, he (Salman Khan) is doing very well at the box office and I wish the entire team all the best."
Meanwhile, Sonakshi made her Bollywood debut with Salman Khan in Dabangg. Now, she is ready with her new film, Joker, which is about UFOs and aliens.
Sonakshi Sinha said, "Kids are a very, very strong market because when kids come they have to bring along their parents. That's great for us and luckily the kids have taken such a liking to these little aliens and even adults are reacting very nicely. It's different, they have not seen something like this before."
'Joker' movie will release allover on August 31, and actor Akshay Kumar, Sonakshi Sinha, Shreyas Talpade and Minnisha Lamba doing the lead role. The film is directed by Shirish Kunder.