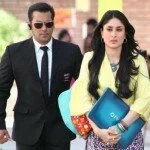 Bollywood news reveals that Dabangg Salman Khan is flying high these days. And he must be, as he is the most demanding actor in the industry now, he is doing all the leading projects under his belt and giving back-to-back hits to the Hindi film Industry.
Now, actor Salman Khan is busy doing shooting of his upcoming film and most awaited film Dabangg 2 in Mumbai.
In addition, Salman Khan is now giving gifts to his friends after the success of Dabangg released in 2012. Reports have said that her Bodyguard co-star Kareena Kapoor has agreed to do an item number in Dabangg 2, the film produced by Arbaaz Khan production house.
And, Salman Khan has now decided to gift Kareena a brand new BMW car.
Earlier, the actress Kareena Kapoor, who sizzled on a remix 'Yeh Mera Dil Pyar Ka Deewana' in Don, is now doing a rustic number in get in Dabangg 2.
Earlier, there were news that the actress will only appear in the song, Kareena wanted the song to be promoted as a part of the film and not called an item number.
Salman Khan has said 'yes' to all the demands of Kareena Kapoor and is apparently contemplating to gift her a car from BMW 7 series.