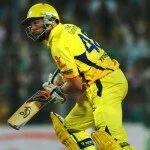 The last-ball six by Dwayne Bravo has powered Chennai Super Kings [CSK] to a 5 wicket win over Kolkata Knight Riders [KKR] in the Indian Premier Leagure [IPL 2012] match played at played at Eden Gardens, Kolkata 14 May 2012 – day/night (20-over match).
CSK requires 5 runs from the last ball of the 20th over, and Dwayne Bravo hits a huge six to grab the victor over KKR.
Earlier, CSK skipper MS Dhoni has won the toss and elected to bowl first. KKR started well but lost wickets at regular interval.
KKR skipper Gautam Gambhir was the highest scorer for his team, hitting 62 runs from 42 balls with six fours and three sixes. KKR managed to score only 158 runs from 20 overs.
Batting second, CSK started well with 97 runs scored in 10 overs. But, lost Michael Hussey in the 11th over of the match. Michael Hussey made match winning 56 runs from 36 balls hitting four fours and equal number of sixes.
Presentation:
Man-of-The-Match award given to Michael Hussey, he said, "It shows that on this sort of pitch, the first six overs are crucial. It was hard to hit boundaries once the ball got older, we wanted to match the start KKR got."
CSK Skipper MS Dhoni said, "Games like this are difficult, we were cruising till the 11th over. We saw what happened to their innings, we should have learned from those mistakes, had it not been for Bravo's last-ball six, we would have lost. We said we should not be looking to play with six bowlers in this game, if needed, Raina and Faf can bowl a a bit. Spin is our strength."
KKR skipper Gambhir Gambhir said, "Narine and Rajat got us back. Now I can say maybe another spinner would have helped, but you go into the game thinking that the attack you choose can do the job you do."
Scoreboard:
Kolkata Knight Riders: G. Gambhir b Jakati 62 (43b, 6×4, 3×6), B. McCullum (run out) 37 (29b, 4×4, 1×6), J. Kallis c Ashwin b Jakati 4 (9b), M. Tiwary c Bravo b Jadeja 12 (14b, 1×4), Yusuf c Bravo b Ashwin 11 (8b, 1×6), D. Das (not out) 19 (10b, 2×4, 1×6), L.R. Shukla c Raina b Hilfenhaus 9 (6b, 1×6), R. Bhatia (not out) 1 (1b); Extras (lb-2, w-1): 3; Total (for six wkts. in 20 overs): 158.
Fall of wickets: 1-99 (McCullum), 2-100 (Gambhir), 3-111 (Kallis), 4-127 (Yusuf), 5-128 (Tiwary), 6-156 (Shukla).
Chennai Super Kings bowling: Jakati 4-0-26-2, Hilfenhaus 3-0-26-1, Ashwin 4-0-26-1, Raina 2-0-17-0, Jadeja 4-0-39-1, Bravo 3-0-22-0.
Chennai Super Kings: M. Hussey c Bhatia b Narine 56 (39b, 4×4, 4×6), M. Vijay b Narine 36 (25b, 5×4, 1×6), S. Raina (run out) 8 (10b, 1×4), F. du Plessis c Tiwary b Bhatia 13 (16b), M.S. Dhoni b Bhatia 28 (21b, 3×4, 1×6), D. Bravo (not out) 11 (7b, 1×6), R. Jadeja (not out) 3 (2b); Extras (lb-4, w-1): 5; Total (for five in 20 overs): 160.
Fall of wickets: 1-97 (Hussey), 2-97 (Vijay), 3-110 (Raina), 4-127 (du Plessis), 5-151 (Dhoni).
Kolkata Knight Riders bowling: de Lange 3-0-37-0, Balaji 4-0-33-0, Narine 4-0-14-2, Kallis 3-0-25-0, Bhatia 4-0-33-2, Yusuf 2-0-14-0.
Man-of-the-match: Michael Hussey