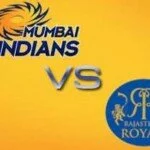 The two big teams of the Indian Premier League will play against each other today.
Rahul Dravid lead, Rajasthan Royals is all set to face Harbhajan Singh's Mumbai Indians in the IPL 5 match today which is played at Wankhede Stadium, Mumbai today [11 April 2012] day/night (20-over match).
Rajasthan Royals are high on confidence as they won two matches in a row and now aiming for their third win in the DLF IPL 2012.
Skipper Rahul Dravid is quite happy with the performance of its young guns in the last two matches. Till now, Ajinkya Rahane is the star performer for the team, and Rajasthan has high hopes from him today as well.
Talking to media, Ajinkya Rahane, who is a Mumbai Ranji opener, said, "Warne was instinctive, always ready for a surprise. You would never know what to expect."
He said, "Dravid keeps things very simple."
While for Mumbai Indians, they are playing in Mumbai, which is a plus point for them, and Rohit Sharma is looking in good touch as he performed really well against Deccan Chargers. Master blaster Sachin Tendulkar is sitll not fit and will miss his second match in a row today.
Kevon Cooper v Kieron Pollard: The two Windes player will be important for their respective teams and they will be playing for the frist against each other, which should be interest to watch.
Mumbai Indians squad
Harbhajan Singh*, AN Ahmed, Amitoze Singh, AC Blizzard, YS Chahal, JEC Franklin, HH Gibbs, DJ Jacobs, MG Johnson, KD Karthik†, Kuldeep Yadav, DS Kulkarni, RE Levi, CJ McKay, SL Malinga, SH Marathe, SS Nayak, PP Ojha, MM Patel, NLTC Perera, RJ Peterson, KA Pollard, AT Rayudu, JN Shah, RG Sharma, R Shukla, RP Singh, TL Suman, P Suyal, AP Tare, SR Tendulkar, AV Wankhade, SA Yadav
Rajasthan Royals squad
R Dravid*, STR Binny, J Botha, DL Chahar, LD Chandimal, AA Chavan, A Chopra, PD Collingwood, K Cooper, AP Dole, SM Fallah, FY Fazal, SP Goswami†, BJ Hodge, GB Hogg, AL Menaria, S Narwal, Pankaj Singh, AG Paunikar, AM Rahane, AS Raut, OA Shah, PR Shah, A Singh, S Sreesanth, SW Tait, SK Trivedi, SR Watson, DH Yagnik
Umpires Aleem Dar and BNJ Oxenford
TV umpire S Das
Match referee J Srinath