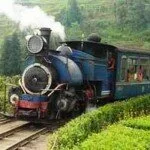 The railways will be coming into Meghalaya for the first time with Chief Minister Mukul Sangma laying the foundation of the Dudhnoi-Mendipathar railway station in Garo Hills district Saturday.
The 19.47 km railway line would connect Dudhnoi in the Goalpara district of Assam and Mendhipathar in the North Garo Hills district of Meghalaya.
This project of the Indian Railways was approved in 1992-93, but, faced hurdles during its initial days due to opposition from the local population. However, it is slated to be completed by 2013.
Terming the occasion as "historic", Sangma said that Meghalaya had missed many opportunities in bringing the railways in the past.
"We have to open up and also change our mindset," Sangma said referring to opposition against the railways from some groups in Meghalaya.
Railways have been opposed in Meghalaya by the influential Khasi Students' Union, claiming it would encourage influx. Projects like the Byrnihat-Shillong project which is slated to be completed by 2018, thus stand threatened.
Sangma said the railways would change the socio-economic landscape of the state and would benefit everyone by providing employment to the youth and giving better markets to farmers.
But Sangma said the railway Station will generate new hope to the people and that it should also be ensured that the demography of the state is not diluted. "People should not have the perception of alienation and all fear of the people should be allayed," he said
Incidentally, railways in Meghalaya is not something new. Although this is for the first time the railways would chug into Meghalaya after it attained statehood in 1972, but present-day Meghalaya is one of the first places in India to have the railways.
In 1895-96, the British provincial government of united Assam built the Cherra Companyganj State Railways (CCSR) and was one of the first railway projects of that era. It was a contemporary of the Darjeeling Himalayan Railways or "Toy Train" now listed as a World-heritage. (IANS)