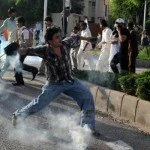 Today, the Pakistani authorities called on two Army companies after more than three thousand protesters including student groups, erupted furious anti-Islamic film protest outside the diplomatic enclave in Islamabad.
To make control over angered crowd which marched towards Islamabad's heavily-guarded diplomatic enclave, home to Western embassies, Pakistani Police aired tear gas and live rounds.
A big crowd of students clashed with law enforcement agencies, pelting stones and burning vehicles, seeking to enter high security Red Zone as Parliament, President's Palace and foreign embassies are located.
The online "Innocence of Muslims" video that has caused biggest violent protests across the world in Muslim countries has left more than 30 people dead which added after this clash with 50 people were injured.
Among the protesters, marching from Rawalpindi to Islamabad, there are thousands of members of religious groups such as Ahl-e-Sunnat Wal Jamaat and Jamaat-ud-Dawah, demanding to burn Americans, take strict action on the matter, mocking Prophet Mohammad..
Moreover, no detail about any harmful incident on Indian High Commission and its staff has been reported. The West State Department earlier warned Americans not to travel to Pakistan and to avoid protests, requested worldwide government to protest diplomats during amid anti-American protest.
The Pakistan government also decided to declare the 'Love the Prophet Day' tomorrow as a national holiday to demonstrate peace.