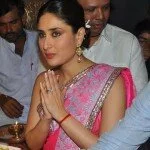 The much awaited film of director Madhur Bhandarkar 'Heroine' starring gorgeous actress Kareena Kapoor in the lead role, is all set to release today.
The bollywood actress turns 32 today. and her film releases on her birthday, in fact this is the birthday gift from Heroine filmmaker to Bebo. Kareena kapoor, Bebo, was born on 21 September 1980. Randhir Kapoor and Babita, and elder sister Karisma Kapoor were actors, Kareena Kapoor faced the media spotlight at a young age.
Kareena Kapoor started her Bollywood career in 2000 with Abhishek Bachchan from film 'Refugee'.
Meanwhile, Heroine is a very special film for Kareena Kapoor, as filmmaker Madhur Bhandarkar had already said in media few days back that Kareena is the most expensive actress in the industry and she had used many international brands in the film.
Heroine has been making headlines since the first promo of the film released, the item number 'Halkat Jawani' is already the biggest hit and now Kareena's millions fans would love to see the film today.
Talking to media, Kareena Kapoor said, "I always take challenges when it comes to performance oriented roles and Heroine isn't something that I could have missed."
Actor Arjun Rampal along with Randeep Hooda playing roles in the film.
Actor Arjun Rampal, also played important role in Heroine said, "I am excited about the fact that the love story between the characters played by Kareena Kapoor and me is very different. Actors do say this all the time but when you watch the film, you would see that for yourself."
Moreover, the complete team of NewsTopNight wishes all the very best to Kareena and Madhur for ;Heroine' and Happy Birthday to Kareena Kapoor.