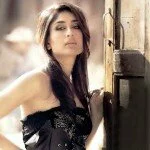 The Bollywood actress, Kareena Kapoor has already received her birthday gift in advance. The release date of her upcoming film, Heroine, will now hit the cinema allover on 21 September, on Kareena Kapoor's Birthday.
Though, it is just a coincidence, but it will be interesting to see as three big actresses will face each other with the release of their film on 21 September.
In spite of Kareena Kapoor's Heroine release on 21 September, Sridevi is making a comeback film, English Vinglish, and Ishkq in Paris, which is being produced by Preity Zinta (she also stars in the leading role).
However, a source from Heroine said, "The clash wasn't planned at all. When it came to our notice that Bebo's birthday was a week away from the original release date, we took a unanimous decision."
The filmmaker Madhur Bhandarkar said, "We decided to make things special for her (Kareena) with a bit of a reshuffle."
Actress Kareena Kapoor said, "I would call it (Heroine) my best work till date. After Jab We Met (2007), I think I have really put my sweat and blood into this film. So what better birthday gift than it coming out on the same day?"
When asked the actress about the clash with other films, she said, "I don't think about such things. Many films release on a Friday. At the end of the day, you can't really control it."
When asked to the director of the film, that delay in release is due to delay in shooting, he said, "If that was the case, what difference would a week make? Heroine is on course. There's no problem at all."
At present, the actress is busy shooting for the song 'Halkat Jawani' with choreographer Ganesh Acharya for the film.
Now, if talked about other film, Sridevi's English Vinglish is a comedy about a housewife who enrolls herself in an English-speaking course, and Ishkq In Paris is a romantic film set in the French capital.