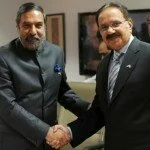 Neighboring nation, Pakistan and India are trying to tie up bilateral relations between them.
Earlier this month, Pakistan President Mr. Zardari visited here, made private discussion over several issues then and decided to have a meeting between both nations' Financial Commerce Ministers.
Now for acting on their committing, India has took first move as offering helping hand to Pakistan by giving approval for foreign direct investment (FDI) from it.
While after attending meeting Pakistani Commerce Ministers, Makhdoom Amin Fahim who visit India on Friday, Commerce and Industry Minister, Anand Sharma announced, "As part of the initiatives to promote liberal trade, India has in-principle agreed to FDI from Pakistan.''
"Both RBI and State Bank of Pakistan are in favour of opening up of branches on both sides of the border,'' Mr. Sharma further added.
Banks from both side such as Reserve Bank of India (RBI) and the State Bank of Pakistan were presented at meeting at Udyog Bhavan as representative of nations and directed the issue that provides significant way of trade on borders.
However still essential additional legal formalities from side of Pakistan are needed to formulate, but both have given their positive approval in principle to allow FDI as opening of branches of bank on both sides to operate money transactions.
Talking to media, Mr. Fahim being happy with meeting, said, "We have also decided to open up negotiations in the hospitality, education and tourism sectors and experts groups would be constituted on these issues to work out the modalities for talks.''
Having tie up for investment on facilitating bilateral trades across the borders, this meeting that resulted a future forward on the textiles trade will enhance the improvements over the Pakistan's financial performance by opening entry into India through the FDI allowance.
Mr. Sharma announced that the India-Pakistan Business Council will be set up soon to be co-chaired by both and also said to carry out a review of the 30 per cent of the "sensitive list'' in the next four months.