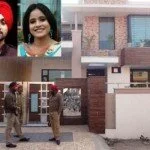 The Income Tax department are in searches at the offices and residences of several famous Punjab pop singers, actors and film producers.
IT raids have conducted for Punjabis from Regional Cinema Industry at various places in Punjab including Ludhiana, Chandigarh, Mohali, Rajpura and Jalandhar.
"Searches have been conducted at offices and residential premises of Punjabi singers and Punjabi film producers," IT Director (Ludhiana) H S Sohi told reporters.
Miss Pooja, Gippy Grewal and Diljit Dosanjh are the among those whose residences and offices are searched by I-T teams.
While, among the film producers, Romy Tahli, owners and partners of the Speed Record Company, Rubi Electronics and Batra Films in Jalandhar city are also included in I-T searches, reports said.
However, all account books have been seized by the authorities, but still no information about searches has been revealed.