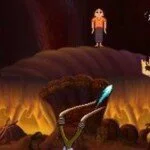 Children love animations, and on the special occasion of Janmashtami, 'Krishna Aur Kans' has inspired mobile games launch.
A developer and publisher of mobile games, Jumps Games has joined hands with Reliance Animation to introduce the official mobile games for the movie, released on August 3.
The newly launched game allows users to be lord Krishna and help the villagers to release their children from demons.
Talking to media, CEO of Reliance Animation, Ashish SK said, "I'm sure this Janmashtami, casual gamers of all ages across India will enjoy enacting Krishna via the mobile game."
Further, Mr. Ashish said, "'Krishna Aur Kans' revisits one of the greatest stories ever told – the story of Krishna, the naughty prankster who emerges as the greatest saviour. While developing the movie and the game, we have given special attention to adhere to Indian sensibilities towards our heritage characters."
However, business head form Jump Games India, Chaitanya Prabhu said, "The launch of the game was deliberately planned around Janmashtami."
He said, "We wanted to participate in the celebration of Janmashtami by creating a game based on Krishna, and this movie gives us a perfect platform to engage with the casual gamers across markets."
It is reported that the 'Krishna Aur Kans' mobile games will be available on all leading mobile platforms such as Android, Blackberry and Symbian, under all leading mobile operators in the country.