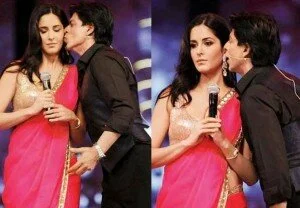 As per the fresh Bollywood gossips, the kin khan of Hindi Film Industry, Shahrukh Khan looks least worried about the controversies around him
Earlier, Shahrukh was named into a controversy with his Don 2 lead lady, Priyanka Chopra, for his alleged relationships and once again he landed into a new controversy by kissing UK-born Bollywood actress Katrina Kaif at an award function.
Not only that, reports have said that Shahrukh Khan and Katrina kaif locked in his vanity van for one hour, and guess what, this incident happened soon after the kissing incident.
Talks are already at its high, as SRK kissed Katrina on her cheek after their performance at the award function, though, Katrina Kaif looked stunning in a pink shiffon saree.
In addition, reports have said that actress Katrina left for her performance soon after Shahrukh Khan left the vanity van.
Now, we can only hope that incident will be not more than a mere rumor.
King Khan's wife Gauri is going though bad period of her life as SRK alleged affair with Priyanka and now the Katrina's angle surely have taken away her peace.
In the meantime, it would be equally interesting to see how Bollywood Dabangg Salman Khan would react about this incident.