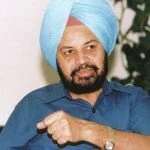 Former Central Bureau of Investigation (CBI) chief Joginder Singh said Saturday that the Lok Pal would not be able to stop corruption and that social activist Arvind Kejriwal "will achieve zero".
Singh was addressing a meeting of activists and farmers in Agra, organised by Legal Mitra Foundation.
Delivering the keynote address on land acquisition laws and the interests of farmers, Singh said archaic laws of the British period needed drastic pruning and updating to meet requirements of today.
Governments in the states were hardly sensitive to the plight of farmers and were not evolving mechanisms and processes to address the challenges of a society in a flux, Singh said.
"You can not undermine the rights and interests of land owning farmers. It makes no sense to pay farmers peanuts and allow private builders to amass wealth. Corruption has been fuelling land acquisition exercises. The sufferer in the process is the common man," he added.
"Central and state governments lack the willpower and determination to take drastic action. Priorities were lop-sided. Equal subsidy
was enjoyed on diesel both by Mercedes owners and tractor owners. Listen to kisans if you want true progress and come out of air-conditioned chambers to see the ground realities," Singh said.
Singh said India needs more than 75,000 judges, instead of the current 15,000. The backlog of cases at all levels was not a healthy sign.
He pleaded for redefining "public purposes" in the Land Acquisition Act. The present state of affairs could not continue indefinitely, he warned. (IANS)