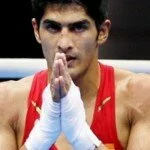 All hopes thrashed down while India's top star boxer Vijender Singh out of London Olympic as losing quarterfinal of the middleweight category by 13-17 against Uzbekistan's Abbos Atoev at the Excel Arena.
During this hunt match in boxing contests, Haryanvi boxer was not in well form nor did strategic perform as he did in his last matches. Atoev was the same opponent whom Vijender had beaten by 7-0 in the 2010 Asian Games final two years ago, but this time he defeated by him, seems a revenge by Atoev this time.
The Beijing Games bronze medalist was able to tie the first round by 3-3 but in 2nd the rival performed excellent with continuous punches. Vijender also countered back him, but this time he was not lucky and Atoev lead two point.
After then in third round during eight bout Atoev took ahead 4 points over Vijender and win the quarterfinal at London. Source said, Atoev had tactical skills and a well combined left and right hook helped him to take more points than the Indian's right hooks.
During the haunt match, Indian crowd chanted "India ! India!", but after the Uzbek was declared the winner there was silence, Indian hopes ruined as a former world No. 1 Vijender's hopes for a second Olympic medal crashed.
Now, Atoev will fight on second medal in Olympic against Ryota Murata of Japan in the semi-finals to be held on August 10.