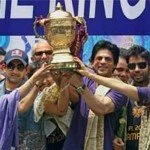 The IPL 2012 had ended with a smile on Kolkata Knight Riders, the winners of DLF IPL 2012 was welcomed in Kolkata for their IPL triumph.
The respected Chief Minister Mamata Banerjee welcomes the winner team along with the co-owners Shah Rukh Khan and Juhi Chawla in front of the Writers' Buildings on Tuesday.
During the event, the King Khan, Shah Rukh Khan said, "We have been waiting for this day so long. Thank you Didi. Thank You Kolkata. Thank you West Bengal on behalf of every member of the team. Only Kolkata will rule."
The Bollywood actor is also the brand ambassador of West Bengal.
Further, the KKR skipper Gautam Gambhir said, "Thank you Didi. It is a fantastic support that we have received from the people of Kolkata and Bengal."
The state chief minister was dressed in a white sari with a purple border, the color of the KKR team's jersey, Mamata Banerjee said, "Bengal is proud. The victory of the Knight Riders is like a victory of the world."
The people of the city were so happy that they welcomed their heroes with lined the streets, people were standing on their rooftops and balconies.
In the meantime, the KKR team started their journey in a team bus at Hazra a little past 11:00 am and then reached at Writers' at 12:20 pm where the chief minister, railway minister Mukul Roy and cabinet ministers were waiting for them.
A platform had been made before the central gate of the state secretariat, with big banner 'Knights Become Kings, Bengal Celebrates' to welcome the team.
However, team's owner Shah Rukh Khan and actress Juhi Chawla reached the location little later. Mamata Banerjee, helped by the railway minister, personally gave bouquets and scarves to KKR skipper Gautam Gambhir and team members and also to Shah Rukh Khan and actress Juhi Chawla.
The programme completed in 13-minutes and after that the state chief minister boarded the team bus with the players and headed for the Eden Gardens.