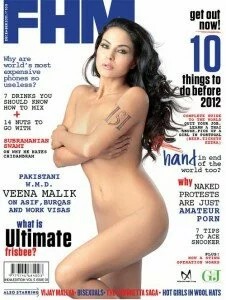 In Pakistan, a thundering wave has been arisen when FHM magazine has posted the Veena Malik's nude photo in its cover page.
Veena Malik the most popular Pakistani actress who is always surrounding with reumors, now become the first most hearing issue after posing nude on the magazine—with a tattoo of ISI on her arm reading.
The ISI refers Inter Service Intelligence, the Pakistani spy agency.
But while talking with media, Veena made unaware herself about this nude posing.
In Mumbai, she told PTI,"I have never posed nude. I have never done anything like that ever. My manager and legal team is looking into the matter. We will take legal action against them."
Although she is already going in a controversy regarding a reality show Swyamavar which is established in Mumbai. Now, she is in Mumbai for her show and where she defense her by saying,"The picture has been morphed. It's not me. Definitely not."
To point out this FHM India editor Kabeer Sharma said," The photo shoot was done in Mumbai on November 22. We have a video of the photo shoot."
"I also have an email from Veena in which she says she has seen the photos and is happy with them, and that she's looking forward to seeing the cover," Sharma told PTI.
However upper most questions for Media and Public are that "what is the Pakistan Govt. reaction regarding Veena Malik's nude photo shoot and what she explain against her protection" It is the most discussing topic in Twitter and now in upcoming days.