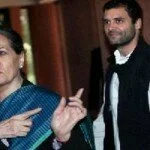 As per Congress general secretary Rahul Gandhi's promise to introduce direct cash transfers in wake of the ending the corruption though modern technology usage, UPA chairperson Sonia Gandhi will launch 'Dilli Annashree Yojana' today.
The direct cash transfer plan would be roll out from January 1, 2013, for leave people from being the poorest of the poor, while Sonia's cash subsidy transfer scheme will be under food security programme of Delhi government.
Under the Sonia's cash subsidy transfer scheme, amount of Rs 600 as monthly cash subsidy will be transferred directly into bank account of those senior female member of two lakh poor families which are not getting subsidised food either by BPL scheme or Antyodaya Anna Yojana
Reports are also said that for implementing the 'Dilli Annashree Yojana' , govt will linked up with five leading banks.
While Delhi govt has in favour of Rahul's direct cash benefits transfer instead of subsidised food to BPL families in the ambitious Food Security Bill.
Meanwhile, with slogan "Aap ka paisa, aapke haath" , as per source report, Congress will ready and put full efforts for the implementation of the direct benefits transfer under Aadhaar far ahead of General Election.
Under Rahul's scheme, equilibrium distribution system will follow with staying out of the Public Distribution System and any leakage in the system is plugged. Around 34 benefits currently given in cash form like scholarships, old age pensions etc are listed in scheme which will also help to subsidies for fertilizers, kersosene and LPG.