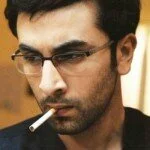 The Bollywood actors are making news for their smoking habits, Shah Rukh Khan is always on top of it, while Salman Khan was hit with smoking news during Bodyguard shooting in Patiala.
And now, actor Ranbir Kapoor seems to be following the foot prints of these stars.
Earlier, King Khan, SRK was summoned by a court in Jaipur for smoking in public during one of the IPL matches, now Ranbir Kapoor summoned for smoking.
The actor is busy doing shooting for his upcoming film 'Yeh Jawaani Hai Deewani' in Udaipur, and received summon from the local court for smoking in public.
Meanwhile, the summon to Ranbir Kapoor has been issued following a complaint lodged by Harish Vaishnav who came across pictures of Ranbir Kapoor smoking in public during the shoot of Yeh Jawaani Hai Deewani in Udaipur.
However, actor Ranbir Kapoor is back in Mumbai, but he will have to be present for the hearing at the court in Udaipur on Jun 26.