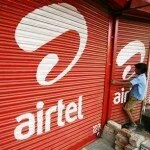 The biggest mobile phone carrier by subscribers, Bharti Airtel has recently announced reports saying that the company's 10th successive quarterly profit reported a fall.
Further, the company announced that the fall in profit is 37 percent at Rs 762.2 crore for the first quarter.
The company reported a net profit of Rs 1,215.2 crore in the same period of the last financial year.
Talking to media, Bharti Airtel Chairman and Managing Director Sunil Bharti Mittal said, "Telecom revenues in India have been depressed due to hyper-competition and recent regulatory and tax developments. Despite these adverse developments, Airtel has kept its focus on network expansion, market investments, superior customer experience and new product innovations."
However, total sales increased 14 percent at Rs 19,350.1 crore.
In a statement issued by the company state that the total revenue jumped by Rs 19,350 crore in the first quarter as compared to Rs 16,975 crore in the first quarter FY'12, showing a growth of around 31.5 percent in Africa and 44.2 percent growth in mobile data profits in India.
Meanwhile, Bharti Airtel has its network in 20 countries allover Asia and Africa and is the world's 5th biggest mobile phone carrier by subscribers.