The fresh talent in the Indian cricket team, medium-pacer Bhuvneshwar Kumar is not happy that master blaster Sachin Tendulkar has announced his retirement from ODIs but he said that he can play alongside with Sachin in Test matches.
Meanwhile, Kumar made superb debut against the first Twenty20 International against Pakistan, however, India lost the match by 5 wickets.
The bowler said, "Yes, that's a big disappointment. When I saw his retirement news on the TV, I thought that I've lost the chance to play alongside him. But then I thought that I still have a chance to play with him in Tests. I hope that happens."
In his debut match against Pakistan, he took three wickets in his four overs spell giving just 9 runs.
Talking to media on Thursday, he said, "It would have been a dream debut if we had won. It was a good debut – scoring six crucial runs at the death, picking up three wickets for nine runs and taking a catch. It would have been perfect had we won in the end."
He added that playing in the IPL has helped him a lot to get prepared for the Twenty20 format of the game.
Bhuvneshwar Kumar said, "I tried to do what I have been doing at the domestic level and the IPL, and that's what the seniors suggested me to do. You can say that the time spent with RCB did help me in terms of knowing what kind of Twenty20 wicket this is"
Kumar added, "Overall, the IPL experience was useful because of what I learnt from the international players about bowling in T20s."
He said captain MS Dhoni has helped him and supported him in his debut match.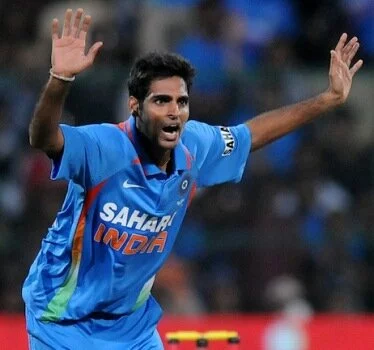 "I have always watched him (Dhoni) on TV and thought what a good captain he is. Before this game he told me that although I am playing for India and it's a big thing, at the end of the day it's just another match. You have played a lot of cricket matches and this is one of them. He supported me right through my spell as well," he said.