All are waiting for the government decision over execution of the slain forest brigand Veerappan's four aides which has fixed today, Feb17, 2013.
As per media reports, the medical examination of four convicts has been done by doctors at the jail in Belgaum in Karnataka where all have lodged in separate cells.
It has been reported that the execution of Veerappan's aides would be on Sunday as per date fixed by Indian President Pranabh Mukherjee who has rejected the mercy plea of the four death row convicts on February 13.
On Saturday, Supreme Court also rejected to grant the urgent hearing of mercy plea of four associates of sandalwood smuggler, seeking stay of execution of their death penalty fixed for Sunday.
Sources said, Chief Justice of India Altams Kabir did not hear the matter and said the hearing will be in due course.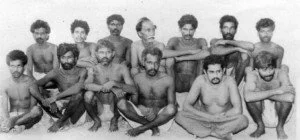 Veerappan's four aides- Simon, Veerappan's brother Gnanaprakash, Madaiah and Bilavendra- have been lodged in the Hindalga Central Jail in Belgaum since 2004, are convict of landmine blasts in Palar, killing 22 policemen in the south Indian state of Karnataka nearly 20 years ago.
Indian sandalwood smuggler, Gang leader Veerappan had been active for several years in the south Indian states Karnataka, Kerala and Tamil Nadu. In 2004, Veerappan had shot out in an encounter with the Tamil Nadu special task force.