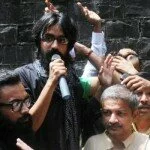 No chance to stop cartoons drawing over political reforms as Aseem Trivedi, the cartoonist who arrested on sedition charges of demeaning Parliament by cartoon, said to keep continue his mode of drawing cartoons over controversial issues like corruption, corrupts politics etc.
Talking to media, cartoonist said that expressing the corruption issue by cartoons is his mission for the country which never stop, but would now spew more venom.
"Anna Hazare has said it is fortunate to go to jail for the sake of your country. I had gone to jail to remove corruption from the country and hence there was no reason to repent or be afraid of," he added.
25 years old, Trivedi who became the worldwide attraction because of his arresting issue and after rejecting the bail of Bombay High Court, demanding dropping the charges against him, was released on 12 September, received by more than thousands of supporters.
On basis of complaint filed by Republican Party of India's member, the Mumbai Police arrested Cartoonist, accusing of drawing banners insulting State image during Anna Hazare's campaign late last year. Police also banned his website where same thing to be uploaded.