Talking to media on Saturday, Bharatiya Janata Party leader M. Venkaiah Naidu said that the United Progressive Alliance (UPA) is planning to return to power on a populist budget.
The BJP leader Venkaiah Naidu, further, said that the ruling party is planning early 2014 Lok Sabha polls in October or November this year.
Talking to reporters, the BJP leader showed his doubts that how such a budget was possible given the rising inflation and negative growth rate.
Mr. Naidu said, "Wrong policies had led to widespread economic slowdown and unemployment."
According to him, hike in corruption in the country, hike in prices of every day required materials and distress in agriculture sector had forced thousands of farmers to commit suicide.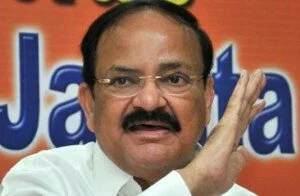 Further, he said, "People are fed up with the UPA…the BJP is the only alternative and the so-called Third Front is only a mirage."
Talking about the execution of 2011 Parliament attack accused, Afzal Guru, he said that strong public opinion had compelled the government to finally act.
He added, "Afzal Guru indulged in a heinous crime on December 13, 2001 and on December 18, 2002, he was sentenced to death…the government needs to explain the reasons for the abnormal delay in implementing the highest court's order."
Meanwhile, BJP leader Venkaiah Naidu also welcomes Chief Minister Jayalalithaa's decision to provide Rs. 15,000 per acre as compensation to farmers who suffered losses due to drought.