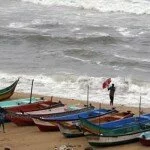 With a relief breath, the threatened Cyclone Nilam moved forward over Tamil Nadu's capital Chennai on Wednesday evening, left spares from much damage behind, after making a landfall at Mamallapuram in the state.
It has been said that while cyclone passed, strong winds blown in the city resulting fallen of 200 trees and 50 electricity poles, blocking off many roadways, but minimal death tolls than expected, may be 5 or 6 in the city.
Power supply had lost in the areas for several hours, the state government already warned people to move to relief centres. Source said that one sailor and five were feared dead after a large oil tanker beached off the Chennai coast.
However, Chennai Authorities has come out the city from danger signal '7', but still heavy rainfalls reported in Tamil Nadu where a large scale destruction among the people had expected.
Seeing the situation, government has declared a holiday in schools, colleges and cargo operation today. As in neighbouring Andhra Pradesh, there is also no casualty reported due to Nilam, no loss of life or crop from any of the districts in south coastal Andhra Pradesh.
One source reported that at least three people were killed in Andhra Pradesh as heavy rain lashed, while in Tamil Nadu, two were killed due to rain, one because of wall collapse and one due to electrocution.
About the Cyclone Nilam futuristic threatening affect, IMD deputy director-general Y E A Raj told reporters, "Radar imaging shows little clouding over Chennai, but the situation could change at any time."