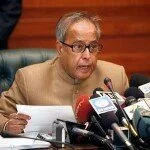 Seeking debt demand of 3 states- West Bengal, Punjab and Kerala, Finance minister Pranab Mukherjee favored Bengal to firstly fulfill their demands for a debt package.
On Wednesday over the discussion on the Finance Bill, he said that however packages would be offer to Bengal but not restricted to be just one state. A comprehensive package could be for two other debt-ridden states — Punjab and Kerala, source reported.
Stating a statement in his speech, Mukherjee said that a team of officers have been appointed by the govt. that inspects this aspect. Also Chief Ministers of 3 states have met the Prime Minister Manmohan Singh for discussion so that a valid result would be out.
"I come from West Bengal, I represent the state…naturally I have an obligation to that. But as federal Finance Minister, I have equal responsibility for all the 28 states," he added.
Source said, while debate on amend the Income Tax Act retrospectively issue, Mukherjee said Vodafone representatives knew the situation and he was telling them that India was not a tax haven.
Asking about weaken rupees situation, he said, "Yes, I want foreign exchange. But for that, I would not like to convert India into Cayman Island or Isle of Man. India will have to be a country which honours its international commitment. At the same time, we will have the legitimate tax demands."