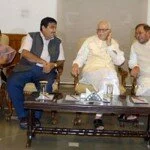 The date of Presidential polls is set on 19 July and current President Pratibha Patil's term ends July 24, but still there is much hush and brush in the parties with their different opinions over the Presidential nominee.
Amidst debate in regard Prez-polls, there are different opinions of the political parties among them the NDA has big difference in itself as some in favor of UPA nominee Pranab Mukherjee, while other are opposing it.
According to report, during a two-hour meeting of the NDA, while JD(U) leader Shivanand Tiwari disfavored a contest against Mukherjee, BJP leaders L K Advani and Sushma Swaraj cleared that there should be a contest, no consensus between choice of P A Sangma and A.P.J. Abdul Kalam.
AIADMK and BJD are interested with Sangma's candidature, the best chances to get support of AIADMK and BJD in NDA, whereas Kalam name has been nominated by Trinamool Congress in the race to enter Rashtarapati Bhawan.
In "strengthening the NDA coalition" based two hours meeting at BJP leader L K Advani's residence, Shiv Sena who was in support of fielding Mukherjee's candidature, skipped the meet, as per reports suggested.
"Shiv Sena chief Bal Thackerey will take a decision on the issue," party leader Sanjay Raut told reporters.
Though there was no outcome in wake of final decision from the talks of parties, various leaders who were put their views in detail, but still more discussions are needed in this regard to take the right decision. Source said that talks should be held with leaders of these parties before any decision is reached.
"L K Advani will talk to chief ministers of NDA-ruled states and all others. NDA will meet sometime later again to take a decision in this regard. Those outside (Delhi) will also be consulted," NDA Sharad Yadav told media persons.
Moreover, no decision has also been come out from Left parties on whether they will support Mukherjee for the 13th president or not. But it is said that there will be a meet on June 21 in this regard.