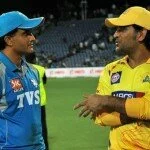 Defending Champions Chennai Super Kings will play today to keep their hopes live in the IPL 5.
MS Dhoni lead CSK had lost three matches in a row and today they will play against Pune Warriors India in the Indian Premier League match Played at MA Chidambaram Stadium, Chepauk, Chennai 19 April 2012 – day/night (20-over match).
Chennai Super Kings had lost three of their five matches in IPL 2012 and is at 6th position in the IPL points list.
But, MS Dhoni I known for his super experiments, in 2012 IPL as well they were down the order in point list, but they came-up strongly and won the IPL title.
On the other hand, Sourav Ganguly lead Pune Warriors India is in better position, with 6 points from 5 IPL matches, and better run-rate as compared to Chennai Super Kings.
There is bad news for MS Dhoni and camp, as all-rounder Albie Morkel, has returned to South Africa to attend the funeral of Louis Vorster who died after being shot during an armed robbery in Gauteng on Tuesday. Morkel is expected to return later in the tournament, though no date has been specified.
Talking to media, Stephen Fleming, the Super Kings coach said, "Albie Morkel has travelled back to South Africa first thing this morning after hearing of the death of a very close friend at Johannesburg overnight."
He said, "He goes with our best wishes and sympathies. He will take further part in the IPL, but we are not sure when that is. So on behalf of CSK, we extend our sympathies to Albie and obviously look forward to getting him back as soon as we can."
Chennai Super Kings squad
MS Dhoni*†, S Anirudha, R Ashwin, S Badrinath, GJ Bailey, DE Bollinger, DJ Bravo, F du Plessis, BW Hilfenhaus, MEK Hussey, RA Jadeja, SB Jakati, Joginder Sharma, S Randiv, KMDN Kulasekara, VY Mahesh, JA Morkel, A Mukund, SK Raina, WP Saha†, SB Styris, S Tyagi, K Vasudevadas, G Vignesh, M Vijay
Pune Warriors squad
SC Ganguly*, ER Dwivedi, MJ Clarke, AB Dinda, CJ Ferguson, RV Gomez, Harpreet Singh, DS Jadhav, Kamran Khan, M Kartik, HH Khadiwale, B Kumar, NL McCullum, AP Majumdar, M Manhas, AD Mathews, MD Mishra, AG Murtaza, A Nehra, MK Pandey, WD Parnell, S Rana, JD Ryder, MN Samuels, R Sharma, GC Smith, SPD Smith, Tamim Iqbal, AC Thomas, K Upadhyay, RV Uthappa, SB Wagh, LJ Wright
Umpires Asad Rauf and S Das
TV umpire S Asnani
Match referee GF Labrooy
Reserve umpire K Srinath