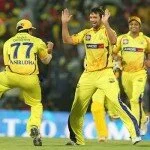 The defending champions Chennai Super Kings has once again bounced back in the Indian premier League [IPL 2012] with a 9 wicket over the Delhi Daredevils in the match played at MA Chidambaram Stadium, Chepauk, Chennai 12 May 2012 – day/night (20-over match).
Earlier, CSK skipper and Mr.Cool, MS Dhoni won the toss and elected to bat first. His decision proved right, as Delhi Daredevisl lost wickets at regular intervals.
Delhi Daredevisl never looked in command and made 114 runs with the loss of five wickets in the 20 overs play.
CSK's pacer Ben Hilfenhaus was the pick of the bowler, talking three wickets from four overs giving 27 runs.
Batting second, CSK lost opener Hussey in the 11th over of the match, but that was not enough for Delhi daredevils. CSK won the match with 9 wickets win over DD.
Presentation:
DD skipper Virender Sehwag said, "It was difficult to defend 114, good wicket to bat on, CSK played well, full credit to them. The ball against Hilfenhaus was unplayable, swinging away. Three more games to go, two of which are against KXIP, hope to win one or two against them."
CSK skipper MS Dhoni said, "Needed to play authentic cricket chasing less than a run a ball. Hussey and Vijay gave us the start we needed. It was not swinging too much after the first couple of overs, so we needed to keep Hilfenhaus for the death overs, he has given us than extra spark. Albie's bowling well with him, openers doing well too."
Ben Hilfenhaus, man of the match: Obviously good to start well and put them under pressure. I would be lying if I said I did not enjoy that one, we did well as a group, both bowling and batting. I would like to come back and bowl in the death and try and improve.
Scoreboard
Delhi Daredevils: Warner c Ashwin b Hilfenhaus 8; Sehwag b Hilfenhaus 4; Ojha c Dhoni b Hilfenhaus 3;Jayawardene c Hussey b Morkel 8; Venugopal Rao c Morkel b Ashwin 27; Y Nagar not out 43; Pathan not out 13; Extras: (LB-3, W-5) 8
Total: (for 5 wickets in 20 overs) 114
Fall of wickets: 1-5, 2-12, 3-24, 4-24, 5-72
Chennai Super Kings Bowling: Hilfenhaus 4-0-27-3, Morkel 4-0-15-1, Bravo 4-0-22-0, Jakati 3-0-19-0, Jadeja 1-0-11-0, Ashwin 4-0-17-1.
Chennai Super Kings; M Hussey c Jayawardene b Pathan 38; M Vijay not out 48; S Raina not out 28; Extras (w-1) 1
Total (For 1 wicket; 15.2 overs) 115
Fall of wickets: 1-75
Delhi Daredevils Bowling: Morkel 4-0-31-0, Yadav 3-0-24-0, Aaron 3.2-0-28-0, Van der Merwe 3-0-17-0, Pathan 2-0-15-1.
Umpires S Das and BR Doctrove
TV umpire S Asnani
Match referee GF Labrooy
Reserve umpire K Srinivasan