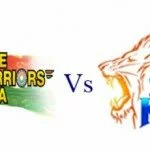 The two big captains from the Indian Cricket team will play against each other today in the Indian Premier League.
Former captain Sourav Ganguly and present captain MS Dhoni will face each other in the IPL 5 today in a match Played at Subrata Roy Sahara Stadium, Pune 14 April 2012 – day/night (20-over match)
The skipper of Chennai Super Kings, MS Dhoni has won the toss and elected to bat first. After winning the toss, two changes for the Chennai Super Kings, Nuwan Kulasekara and Yo Mahesh have been given a chance. Doug Bollinger sits out.
Ganguly says he would have batted first too. Murali Kartik has come back into the side in place of Manish Pandey.
Key Player in today's Match:
MS Dhoni is a very important player as he can change the game during finishing overs, the top order batsman from the Chennai Super Kings has to do their job as they did in the last match, Suresh Raina and R Jadeja would be imports. R Ashwin would have to lead the bowling department from the front.
Pune Warrions India:
Sourav Ganguly and J Ryder have to lead the batting department from the front today, Ganguly is not performing at his best in the IPL 5. Uttappa is also important and from the bowling department, it is Murali kartik and A Nehra.
Now it would be interesting to CSK vs PWI.
Chennai Super Kings team:
F du Plessis, M Vijay, SK Raina, S Badrinath, RA Jadeja, MS Dhoni*†, DJ Bravo, JA Morkel, KMDN Kulasekara, R Ashwin, VY Mahesh
Pune Warriors team:
JD Ryder, SC Ganguly*, RV Uthappa†, AD Mathews, MN Samuels, M Manhas, SPD Smith, R Sharma, M Kartik, AB Dinda, A Nehra
Umpires Aleem Dar and BNJ Oxenford
TV umpire AK Chowdhury
Match referee RR Jadeja
Reserve umpire SD Ranade