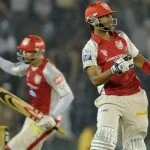 The Kings XI Punjab has still alive in the ongoing Indian Premier League with a last ball win over Deccan Chargers yesterday.
The all-round performance by KXIP skipper David Hussey had made it possible for them. In the match between Kings XI Punjab and Deccan Chargers, KXIP has won the match by 4 wickets at the match played at Punjab Cricket Association Stadium, Mohali, Chandigarh 13 May 2012 – day/night (20-over match).
Earlier, Kumar Sangakkara has wont he toss and elected to bat first, they started well and once again Dhawan led his team from the front. Dhawan made superb 71 runs from 50 balls with four fours and three sixes. He was well supported by White who made 67 runs from 41 balls with eight fours and one six.
Deccan Chargers made 190 runs in their 20 overs play, which is a very good total for Twenty20 match.
But, once again the bowling department of Deccan Chargers failed to stop the opposite team and Kings XI Punjab achieved the total on the last ball of the innings.
David Hussy was the hero of the match, scoring quick fire 65-runs from 35 balls with four fours and five big sixes. He was later named Man of the Match.
Presentation:
David Hussey: "He [Gurkeerat] is a real player for the future for us, made it look real easy. We showed our fighting qualities today. We got three big games, you never know, we could sneak into the finals."
Kumar Sangakkara: "We were poor with the ball at the back end and Huss and the young boy made us pay. [On being asked whether the dew made an impact] Not really, we were in control for most of the game but you need to hit your yorkers. You always bowl your best bowler in the penultimate bowler and get the run-rate high enough for the final over."
Scoreboard
Deccan Chargers: S. Dhawan c Awana b Praveen 71 (50b, 4×4, 3×6), Parthiv c Gurkeerat b Mahmood 18 (16b, 2×4), K. Sangakkara c Mahmood b Awana 1 (4b), C. White (not out) 67 (41b, 8×4, 1×6), D. Christian c Harris b Mahmood 24 (10b, 1×4, 2×6), Ashish (not out) 0, (0b); Extras (lb-6, nb-1, w-2): 9; Total (for four wkts. in 20 overs): 190.
Fall of wickets: 1-47 (Parthiv), 2-49 (Sangakkara), 3-145 (Dhawan), 4-189 (Christian).
Kings XI Punjab bowling: Praveen 4-0-31-1, D. Hussey 1-0-14-0, Harris 4-0-32-0, Awana 4-0-41-1, Mahmood 4-0-39-2, Chawla 3-0-27-0.
Kings XI Punjab: N. Saini c Sangakkara b Christian 3 (10b), Mandeep c Christian b Gony 28 (20b, 5×4), S. Marsh c Sangakkara b Christian 11 (7b, 2×4), A. Mahmood st. Parthiv b Mishra 31 (20b, 2×4, 1×6), D. Hussey (not out) 65 (35b, 4×4, 5×6), S. Chitnis c Parthiv b Steyn 11 (13b, 1×4), P. Chawla c White b Steyn 8 (3b, 2×4), Gurkeerat (not out) 29 (12b, 4×4, 1×6); Extras (lb-6, w-2): 8; Total (for six wkts. in 20 overs): 194.
Fall of wickets: 1-7 (Saini), 2-26 (Marsh), 3-56 (Mandeep), 4-100 (Mahmood), 5-141 (Chitnis), 6-149 (Chawla).
Deccan Chargers bowling: Steyn 4-0-26-2, Sudhindra 4-0-47-0, Christian 4-0-31-2, Jhunjhunwala 1-0-13-0, Gony 4-0-40-1, Mishra 3-0-31-1.
Man-of-the-match: D. Hussey.
Umpires HDPK Dharmasena (Sri Lanka) and BNJ Oxenford (Australia)
TV umpire SS Shamsuddin
Match referee AJ Pycroft (Zimbabwe)
Reserve umpire B Vij