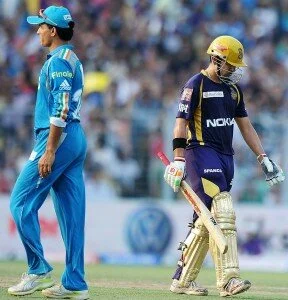 The Kolkata Knight Riders has won the close game today against the Pune Warriors India.
The 47th match of the Indian Premier League [IPL5] was Played at Eden Gardens, Kolkata 5 May 2012 – day/night (20-over match).
Earlier, KKR skipper Gautam Gambhir won the toss and elected to bat first. KKR started well and made cracking 113 runs opening partnership till the 13th over of the play.
Gambhir was the first to go on 56 individual runs from 36 balls hitting four fours and two huge sixes.
New Zealand cricket, Brendon McCullum played 42 runs knock. Kolkata Knight Riders made 150 runs in the limited 20 overs of the play.
Batting second, Pune Warriors India lost some quick wickets, which caused the big damage and results win of Kolkata Knight Riders. Pune was 55 for 5 in the 8.2 overs.
Skipper Sourav Ganguly came to bat and played some superb cricketing shorts; Ganguly made 36 runs with four fours and one six. He was well supported by Angelo Mathews who made 35 runs with three big sixes in his innings.
Pune need 18 runs in the final over of the match, but managed only 10 runs and lost the match by 7 runs.
Winning KKR skipper Gautam Gambhir said, "The turnout was fantastic, the crowd was supporting both teams. Was important for us to take the advantage in the first few overs because we knew that the pitch was going to slow down. We need to do better otherwise in the second half of the innings. Lot of credit to the bowlers for the way they defended the low score."
However, PWI skipper Souav Ganguly said, "We are getting close, but not getting over the line, good to play at Eden Gardens. Lost too many wickets at the start, Narine bowled superbly, if wasn't there we would have probably won the game. We need to bat well at the top of the innings. Need to start performing in the middle, talks are okay but need to start winning."
Man-Of-The-match award was given to Sunil Narine, who took 1 for 13 in four overs.