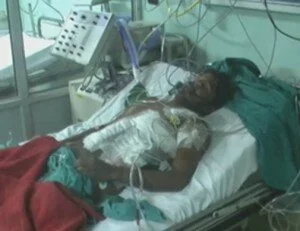 The doctors of Post-Graduate Institute of Medical Sciences (PGIMS), Rohtak has given a new birth to Naveen, 29 years youth who was facing a critical condition as pierced through his body by two iron rods.
Under six-hours long operation, a team of doctor MG Vashisht, Kuldeep Lallar, Ashok Chehal, Ashish and Kiran, has succeed to undertake challenge to left out iron bars without much harm to Naveen's organs.
However all the challenging task has completed under the supervision of SS Lochab, head of the cardiac surgery department.
Naveen was pierced by two rod bars one of which was pierced into his left arm and one had gone through a lung, narrowly missed the heart.
The bar that pierced into patient's abdomen causing severe damage to his diaphragm and left lung, had come out near his neck, reportedly said by institute while talking to reporters.
"It was first decided to cut and take out the iron bar from the patient's chest, but it would have proved fatal for the patient. Therefore, the iron bar was pulled out of his body with great care and the lung was repaired," it further added.
During this disastrous threatening operation, so much amount of blood had lost. But now because of PGIMS's doctors, Naveen, who is admitted to the Intensive Care Unit (ICU), is out of danger.
He is now under the full observations of doctors who are trying to safe him, giving the separate ventilation to both lungs so that he breath easily and the holes of left lung could be closed.