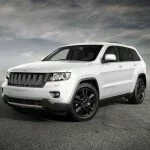 In the next 2013, American iconic auto makers, Fiat Spa and Chrysler is going to launch two international Jeep models into Indian SUV segment, set to run branded SUV vehicles on Indian roads.
The upcoming models are coming with two local most popular models- Grand Cherokee and Wrangler as fully imported units across 32 dealers in 25 Indian cities against Tata and market leader Mahindra and Mahindra Ltd.
The company is seeking to expand its Indian venture which is declining in the highly-competitive low-cost segment and for that an entry level SUV is needed which will be of Jeep, SUV for off- roaders.
It will be for the first time that the US major auto brand makers, Chrysler unveil its off-road pick-ups as well as luxury SUVs in India after tagged its mark over 120 countries across the world.
The world famous auto company is also partnered with Tata Motors over sales & distribution from manufacturing.  And expected to enjoy with high market share with its upcoming Jeep brand in India as currently, company's two vehicles Punto hatchback and Linea sedan are available in the country.
"Our goal is to reach 5% market share in the foreseeable future," Mike Manley, Fiat-Chrysler Asia-Pacific unit's president and chief executive officer for the Jeep brand told reporters.
"We will bring out new products and try to reach that goal. Asia Pacific is the biggest growth market for us," he further added.