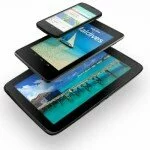 The long anticipated Google's LG manufactured Nexus 4 Smartphone and another Samsung made first Google Nexus 10 tablet, both run on Android 4.2 Jelly Bean has finally landed in the market with Google Nexus series launch on Monday event after delayed due to Hurricane Sandy Storm.
Direct competition with Apple, Amazon.com and Microsoft against iPhone 5, Kindle Fire Tablet and Surface Tablet, Google has come with many holidays offers at one roof on its Play Store.
The world's No1 search engine is seeking to dive deep in the market sea both in Smartphone as well as Tablet with one day launch of its three devices increasingly demand on mobile market
Google's new Nexus 10 features 2,560 x 1,600 display with a pixel density of 300 ppi , running on Jelly Bean and powered by a dual-core, Cortex A15-based 1.7 GHz Samsung Exynos 5250 CPU with a Mali T604 GPU, 2GB RAM, 16 GB internal storage. There is a 5MP rear auto focusing camera and a 1.9MP VGA front facing camera for video calling.
The entry-level Nexus 10 will ship in Nov 13 with the 16GB at cost of $399, available on Google Play in the US, UK, Australia, France, Germany, Spain, Canada and Japan, while the 32GB version Wi-Fi only Nexus 10 costs $499.
LG Nexus 4 Smartphone which set to beat Apple's iPhone 5 is bundled with a 4.7-inch screen IPS display, powered by 1.5GHz quad-core Snapdradon S4 Pro with 2GB RAM and Adreno 320 graphics. The device is being available with same day of Nexus 10 shipping in two versions 8GB for $299 and 16GB for $349. Google is also claimed to sell Nexus 4 at $199 with two-year contract on usage of T-Moble services at 16GB.
Another surprise is that Google is also launch its new music matching feature lets users to collect free online automatic loading tracks on the Google Play store's music catalog, apply just in Europe on November.
The Google's NY Event was ended with announcement of updation of its smaller, Nexus 7 tablet with 16GB storage on the $199, a new $299 of the Nexus 7 with a cellular data service mode and also revealed 32 GB version for $249.