Jammu and Kashmir Liberation Front (JKLF) Chief Yasin Malik, who had recently seen with India's most wanted mastermind of 26/11 Mumbai attacks, returned to India from Pakistan.
Malik, after a 40day private visit to Pak arrived at the Indira Gandhi International Airport, Delhi by a Pakistan International Airlines (PIA) flight from Islamabad, faces amid protest of Shiv Sena Sainiks with slogans against him at the airport, reports said.
Amid controversy shouted when Malik during his Pak trip had shared dais with terror outfit Lashker-e-Taiba(LeT) chief Hafeez Saeed in Pakistan, at the hunger strike called in Islamabad to protest hanging of 2001 parliament attack convict Afzal Guru last month.
Malik denied that he had invited Saeed. Even he also said that the hunger strike s not organized by him. "I wonder why am I being targetted now. I had met Saeed in 2006," he told reporters.
Amid apprehensions were that he might be arrested for his recent act in Pak or his passport would be revoked on grounds of national security, but no case had registered against Malik.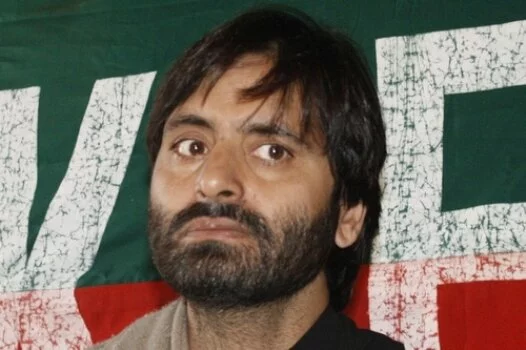 Asking about JKLF leader, he said, the Government was free to act and withdraw his passport, which was due to expire on March 19.
"If the Indian State wants to arrest me, that is their wish. If they want to take away my passport or put me in jail, they can go ahead. Jail is my second home," Malik told reporters.