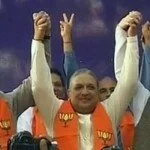 Just few days before Gujarat Assembly elections, Congress hit with a big lose of top leader, former deputy CM Narhari Amin who quit party to join the BJP.
Welcoming Amin's decision of being denied a ticket to contest the upcoming assembly polls, Narendra Modi said that his party is with him for better Gujarat future and added , "Back-stabbing has no place in democracy. Congress has betrayed their own party members."
Modi announced Amin's entry in BJP at a function in Ahmedabad today and will induct him into the party, might be positioned as a vice president of the GCA ( Gujarat Cricket Association), source said.
Amin's decision to quit the Congress along with his supporters came after Congress denied denied him to enter the Assembly elections as per its decision not to nominate those who already have lost two elections.
Last week, Amin's supporters submitted their resignations to Gujarat Congress chief Arjun Modhwadia including Ahmedabad Congress chief Pankaj Shah, 18 municipal councilors and 40 ward presidents.
"I have been working for the party for the last 25 years, but the party high command has not appreciated my hard work and loyalty," Amin had told the media.