BJP's major announcement of Gujarat Chief Minister Narendra Modi's reinduction in its Parliamentary Board took up Sangh parivar's forceful mark on the Ayodhya Ram temple.
Launching a new movement called 'Hindu Ahead' in Ahmedabad with the slogan 'Hindu Security and Prosperity' at an event of 'Hindu Sangam', the Vishwa Hindu Parishad promised to reach out to Hindus in villages.
Gujarat, the development state of Modi, will now declare a "Hindu state" by 2015, the VHP's international general secretary Pravin Togadia claimed.
Raising the pitch over dream of Ram Mandir at Ayodhya, Togadia invoked the issue of the "insecure Hindu" and promised VHP presence in all 18,000 villages of Gujarat within two years, source said.
He urged people to "become Hindus, not only by our behaviour, but with our practice and awareness." However, VHP announced to celebrate golden jubilee scheduled for August 2014.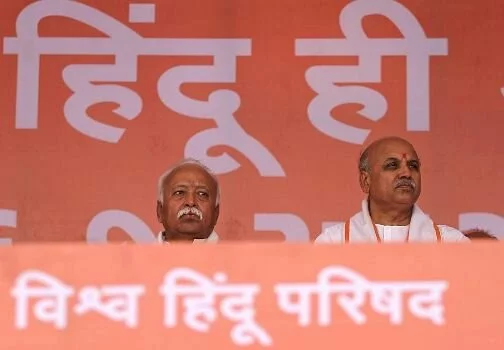 Further Reports said, RSS chief Mohan Bhagwat has also accompanied Togadia confirmed a 'Ram Jap' programme between April 11 and April 13 regarding Ram Temple issue, while Modi was absent at function falls in his constituency Maninagar.