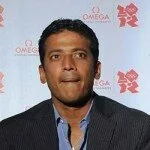 The 12-time Grand Slam winner from India, Mahesh Bhupathi has today said in media that his had probably played his last match for the country.
The tennis player has been facing differences with All India Tennis Association [AITA] for a long time, and AITA slapped a 2-years ban on him.
Sharing his views with media, he said, "Unfortunately the reality of the situation is anyway I have played my last match for India."
Further, he said that it would not be possible for his to play for the country after two years ban, he said, "I always feel like playing for India. Tennis is an individual sport and we barely get to represent the country once or twice a year. Two years is a long time."
The player said that next year [2013] would be his last year on the ATP tour.Bhupathi said, "I am at the fag end of my career. Next year will definitely be my last on tour. I am not even sure whether I am going to play a whole schedule."
Meanwhile, Mahesh Bhupathi and his doubles partner Rohan Bopanna was banned by AITA for not playing in the ATP tour, the difference started earlier this year just before London Olympics 2012.
"It makes more sense for him to partner somebody as young as him for the next four five years," Bhupathi added.
However, Mahesh Bhupathi will partner Serbian-born Canadian Daniel Nestor in the next season.