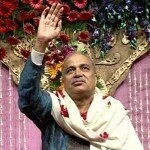 The Controversial spiritual guru Nirmal Baba has come up for the first time, and broke his silence in front of media. There are news in media on the income of Nirmal Baba and doubts over alleged ability to perform miracles.
But, Nirmal Baba denied all such allegations and told media that he had never claimed to be a miracle worker.
He said, "I was just an ordinary person who had been 'blessed' by God."
Talking to a news channel, Nirmal Baba said, "I am against all forms of superstition. People follow and believe in me because I tell my followers not to believe in any form of superstition."
Further, Nirmal Baba said, "I was fortunate to have been 'blessed' with the ability to help people, and it was because of this that thousands believed in him."
He also added in his statement that his brother-in-law Inder Singh Namdharee, is trying to spread false information in the people about him.
Nirmal Baba, originally named Nirmaljeet Singh Narula, acknowledged that he did indeed start his career as a brick kiln owner. Though Nirmal Baba was not able to give any promising reply to a question that why he was allegedly able to spiritually help people, he just claimed to have been 'lucky to have been blessed with special powers'.
Nirmal Baba also denied reports that he paid people to create fake questions at his samagams and prayer meetings.
In addition, Nirmal Baba denied reports that he was making excessive amounts of money by making people pay to ask him questions for Rs 2000.
He told media that all that money is used to pay expenses and other charges and no money is used for own profit.
However, Nirmal Baba accepted that Nirmal Durbar had a turnover of Rs 235 crores.