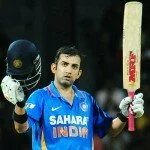 The superb come-back by MS Dhoni and his team in the third ODI match player against Sri Lanka at R Premadasa Stadium, Colombo 28 July 2012 – day/night (50-over match).
India won the 3rd ODI match against Sri Lanka by 5 wickets in the five match series.
As we said in our yesterday's post that India can chase any target with player like Sehwag, Gambhir, Kohli, Suresh Raina and MS Dhoni. It all happened in the match.
Sri Lankan skipper Mahela Jayawardene won the toss and elected to bat first, they lost three quick wickets with just20 runs on the board in the 6th over of the match. However, they came back strongly and scored 286 runs in 50 over with 5 wickets.
Kumar Sangakkara, skipper Mahela Jayawardene and Mathews played remarkable knock of 73 runs, 65 runs and 71 runs, respectively. Zaheer Khan was the most successful bowler taking 2 wickets and giving away just 39 runs in 10 overs, while Dinda was the most costly bowler, gave away 76 runs in 10 overs.
Chasing the total, India lost opener Sehwag in the 2nd over of the match, but Gambhir and Kohli took the charge early and built the stage of victory.
Gambhir completed his hundred, he made 102 runs from 101 balls hitting 10 fours. He was well supported by Kohli and MS Dhoni.
Rohit Sharma once again failed, he was out for DUCK. Suresh Raina was the hero of the match, he scored 65 runs from 45 balls with six fours and one huge six.
Presentation:
Suresh Raina is the Man of the Match said, "I learnt over the years, how to bat when you need 8 an over, Gautam played very well early on, set the platform. I looked to play straight, not to play cross, I knew I could hit over cover, over midwicket, I also wanted to run hard. Credit goes to Gautam, he batted very well."
Sri Lanka skipper Mahela Jayawardene, "It was one of those days. They are a quality team, I thought we played a good game, just a few mistakes. Up front, we were not putting enough pressure in the chase. We bowled poorly (towards the end) and dropped Suresh as well. It's tough when you lose, but you try and re-focus for the next game. Sanga will get a good deserved break (smiles)."
Indian skipper MS Dhoni, "We had a chance, because Gautam was still batting, and we all had belief in Raina, we also had Irfan and Ashwin. I think those two wickets changed the game, Gautam did really well, we needed one of the top three to put in a performance like this. We need to improve our death bowling, and our fielding, but overall I was happy with our performance."
Scoreboard:
Sri Lanka batting: U.Tharanga c Dhoni b Khan 8 (20 b, 1×4), T.M.Dilshan b Khan 9 (7 b), K. Sangakkara c Kohli b Dinda 73 (95 b, 5×4), D.Chandimal lbw Pathan 0 (3 b), M. Jayawardene lbw Rahul Sharma 65 (79 b, 5×4), A.Mathews (not out) 71 (5×4, 1×6), J.Mendis (not out) 45 (3×4, 1×6). Extras (b-2, lb-8, w-9, nb-1) 20. Total: (for 5 wickets, in 50 overs) 286.
Fall of Wickets: 1-9 (Dilshan), 2-19 (Tharanga), 3-20 (Chandimal), 4-141 (Jayawardene), 5-182 (Sangakkara).
India bowling: Khan 10-0-39-2 (3w), Pathan 10-0-59-1 (1nb,3 w), Dinda 10-0-76-1, Rahul Sharma 8-0-45-1, Ashwin 10-0-50-0 (1w), Sehwag 1-0-3-0, Rohit Sharma 1-0-4-0
India batting: G.Gambhir run out 102 (101b, 10×4), V.Sehwag c sub (Senanayake) b Perera 3 (6 b), V.Kohli c & b Herath 38 (65b, 2×4), M.S.Dhoni b Malinga 31 (49 b, 1×4), Rohit Sharma lbw Malinga 0 (1b), S.Raina (not out) 65 (45 b, 6×4, 1×6) I.Pathan (not out) 34 (31 b, 3×4) Extras (lb 11, w4) 15. Total: (for 5 wickets in 49. overs) 288.
Fall of Wickets: 1-8 (Sehwag), 2-113 (Kohli), 3-180 (Dhoni), 4- 180 (Rohit Sharma), 5-196 (Gambhir).
Sri Lanka bowling: Malinga 10-0-60-2, Perera 9-0-57-1, Udana 6-0-42-0 (4w), Mathews 8.4-0-49-0, Herath 9-0-36-1, Dilshan 3-0-14-0, Mendis 4-0-19-0.
Man-of-the-Match: S. Raina.