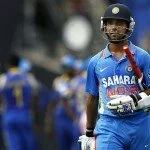 The fifth and last ODI cricket match between India and Sri Lanka will be played at Pallekele International Cricket Stadium 4 August 2012 – day/night (50-over match).
Latest reports from the cricket stadium said that Indian skipper MS Dhoni has won the toss and elected to bat first.
India has already won the five match series by 4-1 and this match is just a practice game for Indians. However, Virat Kohli and Suresh Raina would be the key players for India as they helped India a lot to win the series.
Opener Gautam Gambhir is also an important player to watch in today's match. All-in-all, this is for sure that it will be an interesting end of the ODI series.
After this, India will take on Sri Lanka in the only T20 match.
Live Scoreboard:
India lost three wickets with 170 runs on the board in 33 overs. Gautam Gambhir is playing at 80 runs [not out] with Manoj Tiwari batting at 45 runs. Opener Rehane, Virat Kohli and Rohit Sharma was the three batsman who lost their wickets.
The opener Virender Sehwag is not fit so Ajinkya Rahane will be replacing him in the Indian cricket team. On the other hand, Sri Lankan regular skipper Mahela Jayawardene and Herath is out and Angelo Mathews will be leading the team today.
After winning the toss, Indian skipper MS Dhoni said, "We think the ball may swing a bit under lights. Sehwag is not fit, Sehwag has a glute problem, Rahane is in."
Stand-in skipper for Sri Lanka, Mathews said, "It's going to be a new experience, and a new challenge. I have my own definite ideas, and I'll get a bit of help from Mahela. Jayawardene and Herath are rested, Kapugedera is in. The offspinner Senanayake also gets a game."
India team
AM Rahane, G Gambhir, V Kohli, RG Sharma, MK Tiwary, MS Dhoni*†, SK Raina, IK Pathan, R Ashwin, Z Khan, AB Dinda
Sri Lanka team
WU Tharanga, TM Dilshan, LD Chandimal†, CK Kapugedera, AD Mathews*, HDRL Thirimanne, NLTC Perera, BMAJ Mendis,
SMSM Senanayake, N Pradeep, SL Malinga
Umpires BNJ Oxenford (Australia) and TH Wijewardene
TV umpire RSA Palliyaguruge
Match referee BC Broad (England)
Reserve umpire HP Crossley (Australia)