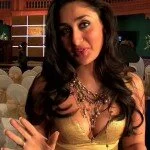 This year is very special for Bollywood actress Kareena Kapoor, as she is busy making guest appearances in films.
Recently, it was said in reports that Bebo is doing an item number in Salman Khan's Dabangg 2, and now, reports have said that the actress will be doing a guest appearance in Akshay Kumar's upcoming film, 'Rowdy Rathore'.
Actress Kareena Kapoor recently fished her role for the film, directed by Prabhu Deva.
Meanwhile, Bollywood buzz have said that the actress did not charged any fees for her role for her cameo. However, Kareena Kapoor said that she did the role for producer Sanjay Leela Bhansali and co-producer Shabinaa Khan.
Kareena Kapoor's friendship with Shabinaa Khan is well-know to all in the industry.
Kareena Kapoor and Shabinaa Khan, first become friend when Shabinaa Khan was a designer, and use to design clothes for Shahid Kapoor. No doubts, actress Kareena Kapoor broke up with Shahid Kapoor, but she kept her friendship with Shabinaa intact.
This is the reason; Kareena is doing the cameo role in the film for free.
However, a source told media that Shabinaa Khan and Sanjay Leela Bhansali might give in return to Kareena Kapoor's favour by giving her an expensive gift.