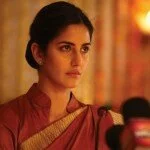 The London-born Bollywood actress, Katrina Kaif, who made headline during the 2010 release film 'Rajneeti', is happy to be a part of film's sequel.
She has a part of script and excited to work with filmmaker Prakash Jha once again.
While talking to media, the actress said, "There are very few scripts that are genuinely entertaining. 'Rajneeti' is a script which has been worked on for years. I did hear the idea, I think it's a genius and brilliant idea. I really hope everything falls in place. The only thing is most of the characters have been killed in the first part."
If talked about film, it was a political thriller, casting Ajay Devgn, Nana Patekar, Ranbir Kapoor, Arjun Rampal, Manoj Bajpayee and Naseeruddin Shah in the elad roles.
However, the actress told media that the filmmaker is presently working with Bollywood superstar Amitabh Bachchan, but sequel is on cards.
She said, "It is genuinely a good idea. I find it exciting and I really like the character. Right now, he (Jha) is working on another film called 'Satyagraha' with Amitji (Amitabh Bachchan), but I would love to work with him again."
Katrina Kaif said, "With Prakash we had many discussions on the scripts. He has told me the basic story of the film, but not the entire script, so we have time for that."